How It Works
No-Wet is a revolutionary product resulting from years of green research and development. This Green formula captures and reduces dirt particles and lifts them off the surface of your vehicle. This unique ability prevents scratches, unlike a traditional car wash that may harm the finish.
Just apply No-Wet over a small area with a clean microfiber towel, and wipe off. Then use a second towel to buff the same area to a beautiful shine. See the for a detailed application method.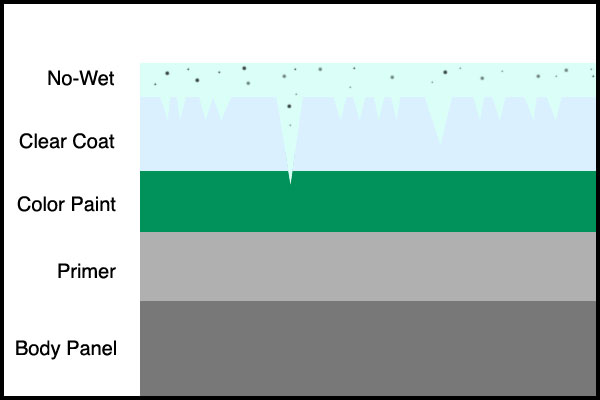 Along with 17 major active ingredients, No-Wet also contains the finest Carnauba Wax and Kaolin Clay available. No-Wet DOES NOT contain any harmful silicone or abrasive agents like many other car care products on the market today.
Carnauba (car-now-ba) Wax is a natural plant byproduct that will not react with paint, Carnauba provides an extra hard film over your car's surface. It is made from a vegetable fat obtained from the leaves of a Brazilian palm tree called the "Tree of Life" (Copernica Cerifera). Pure Carnauba, in its natural state, is harder than concrete. One of its most interesting properties is that it swells and closes its pores when exposed to water.
Kaolin Clay is not a wax or a polish. It is not a glaze or a compound. Kaolin Clay is a natural, NON ABRASIVE surface preparation that gently pulls out the grit, grime and pollution from the paint or clear coat surface before it's buffed or waxed.
Benefits Over Regular Washing
Regular washing with water leaves tiny feather scratches. No-Wet prevents this from occurring by protecting the finish while the dirt is still on it. No-Wet encapsulates and emulsifies the dirt particles. In other words, No-Wet shrinks the dirt particles and lifts them off the surface, without scratching the paint. No-Wet cleans, shines, and protects, all in one, easy application.
Benefits Overall
No-Wet GreenWay Saves Time and Money!
Cleans, shines and protects all paints, clear coats, rubber, vinyl, and plastic surfaces
No need to buy expensive car wash soaps, waxes, sealants, vinyl cleaners, etc.
Cleans, shines and protects all in one, easy application
No-Wet GreenWay waterless car care products save water, protect the environment, are 100% Earth friendly and made from all Organic ingredients
Contains NO Kerosene, harmful silicones or abrasive agents
Can save millions of gallons of water on a daily basis
Protects Your Vehicle
Provides a very hard film over your vehicle's surface to protect against acid rain residue, catalytic converter emissions, bugs, tar, road grime, bird droppings, and salt
Restores your paint finish by removing oxidation
Stops damage from oxidation, UV rays, acid rain, salt, and pollution